Pinewood Derby Race Manager
Pinewood Derby Race Manager Is Shareware!
Download Below!
---
"The Cadillac Of Pinewood Derby Software"
Pack 125, Naperville, IL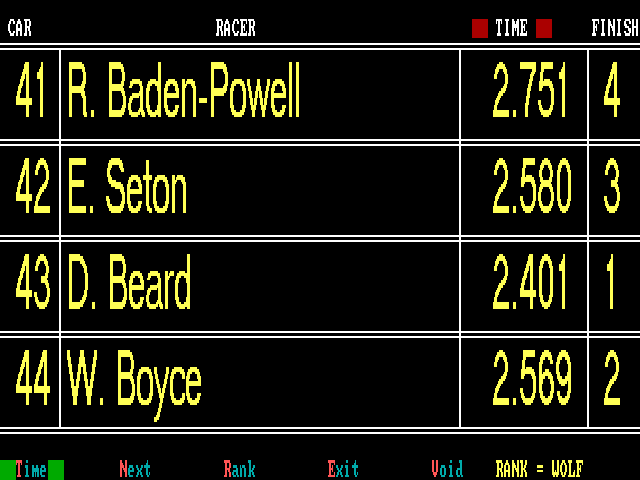 Scoreboard -- Display On TV!
Computerized Electronic Race Timing

Millisecond Accuracy

Display Heat Results In Real Time

Instantly Display Final Results By Pack, Rank, and Den

Photoelectric Lane Sensors Tie Directly To Computer Using Simple Parallel Cable Interface

Software Screens Designed To Display On Large TV

Provides For "Dads" (Unlimited Division) Race

Provides For Late Entries

Register And Race Entire Pack Of 75 Scouts With No Arguments In Under Two Hours

On Screen Sensor Diagnostics

Each Scout Runs One Heat On Each Track Lane, So Everyone Races On All Lanes. Lowest Cumulative Time Wins

Software Tracks Who Races Where And When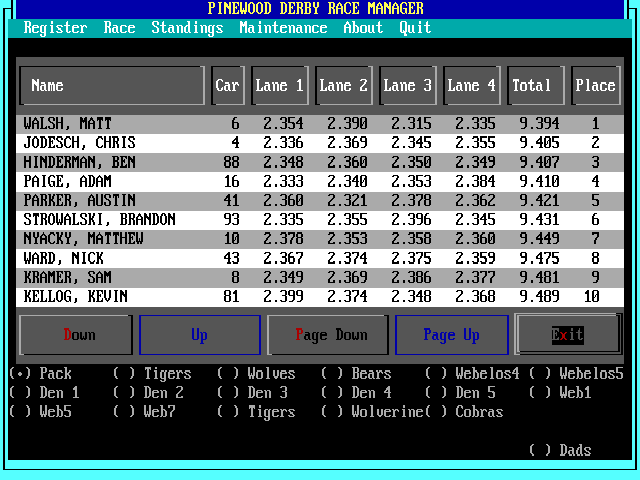 Pick Any Radio Button To Display Final Results For That Classification!
Can Be Configured Using Den Numbers, And/Or Den Nicknames

Up To 23 Dens

Up To 200 Scouts

Print Out Racing Order Prior To Race So Cub Master Can Organize Scouts

Print Out Final Results After Race So Dens Can Have Copies